B&W
747
Description
One (1) 75,000pph Babcock & Wilcox superheated steam boiler, Model # FM0-74 SH, Serial # 201- 3293, design pressure 750 psi, capable of producing 75,000 lbs. of steam per hour up to 750°F. ASME Section I shell. Includes Coen Model 670 FYR-Compac dual fuel burner capable of firing on natural gas or #2 fuel oil. Fuel valves & controls meeting FM, IRI, and NFPA8501 standards.
The boiler comes complete with gas train, (less gas pressure regulator), oil train, No. 2 fuel oil pump, 1 st and 2nd low water cut off, pressure controls, flame safeguard control, relief valves, feedwater valves, blowdown valves, and a fully modulating Coen burner, one (1) main steam stop valve, one (1) stub stack section (flanged; height 6'), one (1) Kentube economizer, FGR ductwork, and one (1) operator's manual.
Boiler is offered with a 1 year parts and motors warranty (less labor), and the pressure vessel is guaranteed to pass an ASME inspection.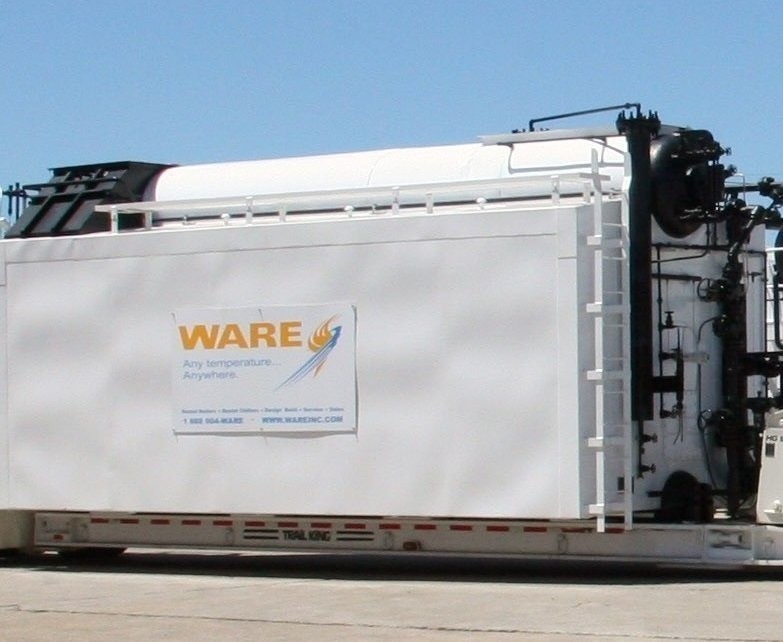 See All Current Inventory
Ware is your source.
All Ways Steam.
WARE is an industrial & commercial boiler rental and service company that specializes in sales, service, valve repair, rentals, parts, turn key and boiler training.