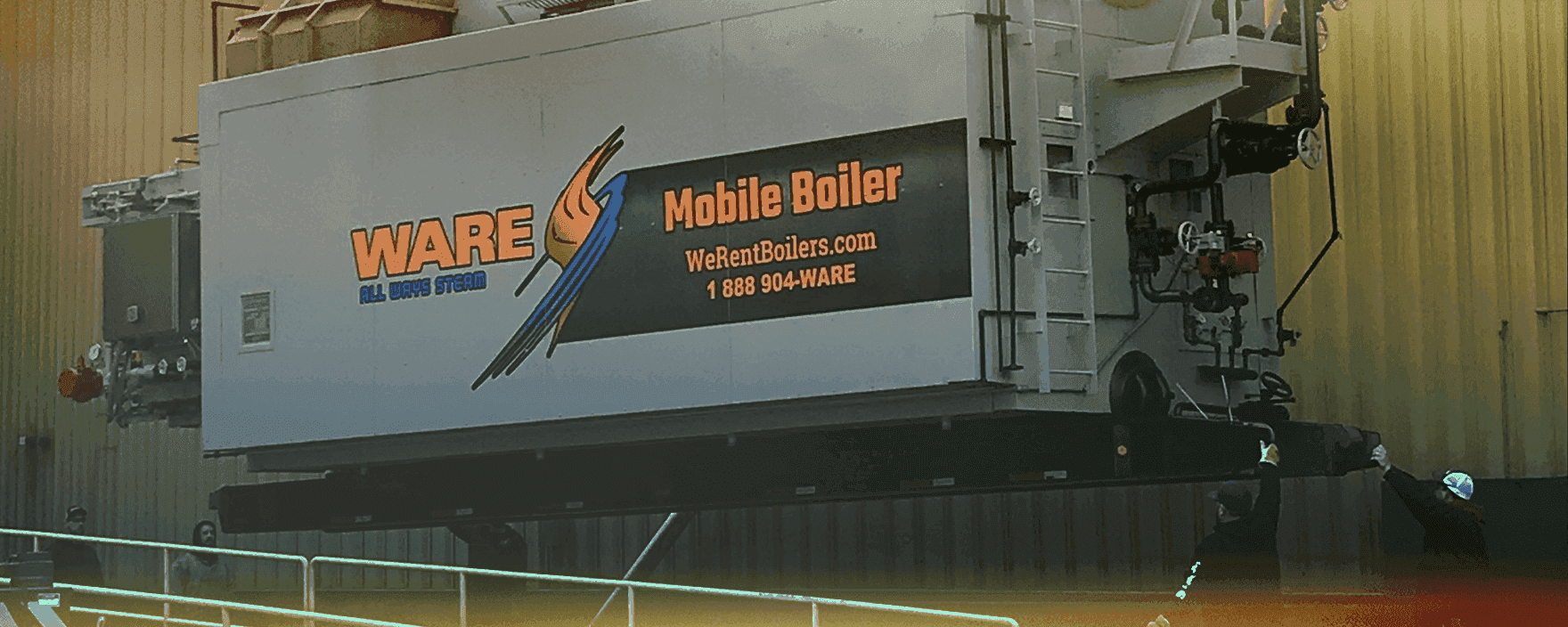 Emergency Boiler Rentals
Steam When You Need It—24/7
Hurricane Sandy and 25 Emergency Mobile Boiler Rentals
You cannot afford to be without a functional boiler. So when emergency strikes, we know you want more than just a replacement boiler. You want a solution. You want professional peace of mind. At WARE, we understand the importance of not only getting your business back on track quickly, but also having the confidence that the service you receive is preparing you to maintain efficiency.
Our emergency boiler rental service is available 24-hours a day. Our fleet of mobile boiler rooms are ready to provide boiler rental services anytime, anywhere in the world. We understand that you can't afford downtime, so we guarantee a fast response when you need us most.
Your trailer mounted WARE boiler will be delivered promptly, and our knowledgeable service technicians come prepared to do whatever it takes to get your business operational. Our commitment to customer service means we go the extra mile to take the stress out of boiler installation and start-up. We're not finished until your emergency boiler rental is fully connected and operational, and your on-site operator has been trained to properly handle your temporary boiler equipment.
WARE Emergency boiler rental provides your business with a dependable, complete solution to any emergency steam or heating need. Contact us in the event your operation experiences:
Unexpected Boiler Inspection Repairs
A Natural Disaster
Delivery or Replacement Delays
Critical Boiler Malfunctions
Critical Equipment Failure
Planned Outages or Any Other Event that Leaves Your Operation in Need
No matter the circumstance, you can count on WARE for a fast turnaround on your quote, fast delivery and dependable service. Contact us now.
Additional Resources
WARE technicians are equipped to provide the highest quality of service to meet customer needs. Following Hurricane Sandy, WARE was contracted by the Applications Engineer of the New York City Housing Authority to provide 25 steam units, installation, maintenance, and more. Read more about the full project and result today.
To learn more about our customers' projects, needs, and results, browse all of our case studies.
Upcoming Events

We're very active in the industry, so stop by and see us sometime.

View all events

WARE Newsletter

Sign up for our quarterly newsletter to stay in the know about all things steam.
Ware is your source.
All Ways Steam.
WARE is an industrial & commercial boiler rental and service company that specializes in sales, service, valve repair, rentals, parts, turn key and boiler training.