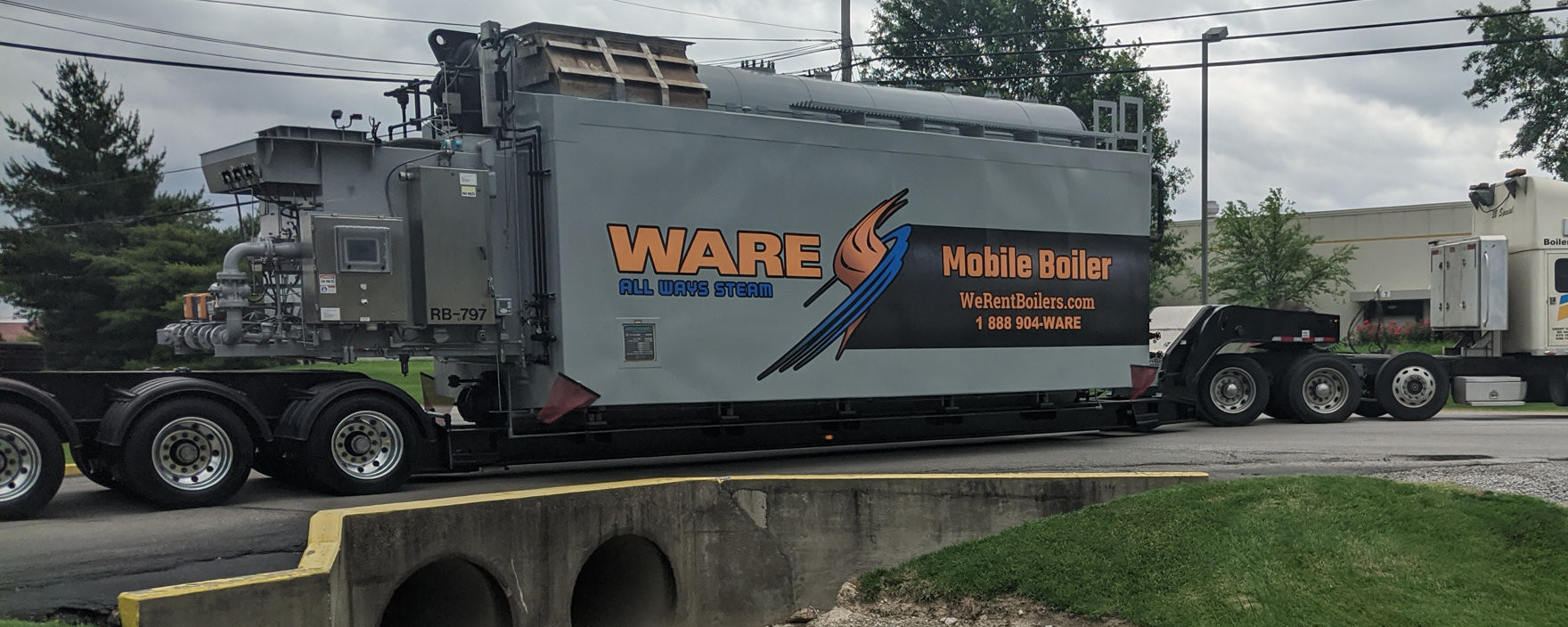 Trailer Mounted Boiler Rentals
Trailer-Mounted Boiler Rentals
Industry-leading inventory of boilers ready for delivery
WARE is a leader in the trailer mounted rental boiler industry. We've been providing portable boiler solutions to our customers for over 40 years.
The major benefit of choosing a trailer mounted rental boiler is that there's no need to deal with the hassle of loading and unloading. Because the boiler is secured to a trailer, it is easily transported to projects with minimal installation or downtime. You'll save time and money by simply delivering your boiler trailer and attaching minimal additional equipment and getting back to business.
Big Flight - Moving a Boiler By Plane
WARE trailer-mounted rental boilers are built to ABMA guidelines and are available in the following specifications:
30,000 lbs/hr up to 82,500 lbs/hr
Pressures Up to 750 psi
Super Heat Capabilities Up to 750°
Low NOx
Hot Water Systems
Additional boiler rental equipment available:
Deaerators
Water Softeners
Feedwater Systems
Heat Exchangers and Economizers
Steam Pressure Reducing Stations
Gas Pressure Regulating Stations
Economizers
De-Superheaters
We have new, super high efficiency, money-saving trailer-mounted rental boiler units in stock and ready for delivery. Auxiliary rental equipment is also available upon request. Contact us today for a fast turnaround on your quote so you can get back to business.
Upcoming Events

We're very active in the industry, so stop by and see us sometime.

View all events

WARE Newsletter

Sign up for our quarterly newsletter to stay in the know about all things steam.
Ware is your source.
All Ways Steam.
WARE is an industrial & commercial boiler rental and service company that specializes in sales, service, valve repair, rentals, parts, turn key and boiler training.