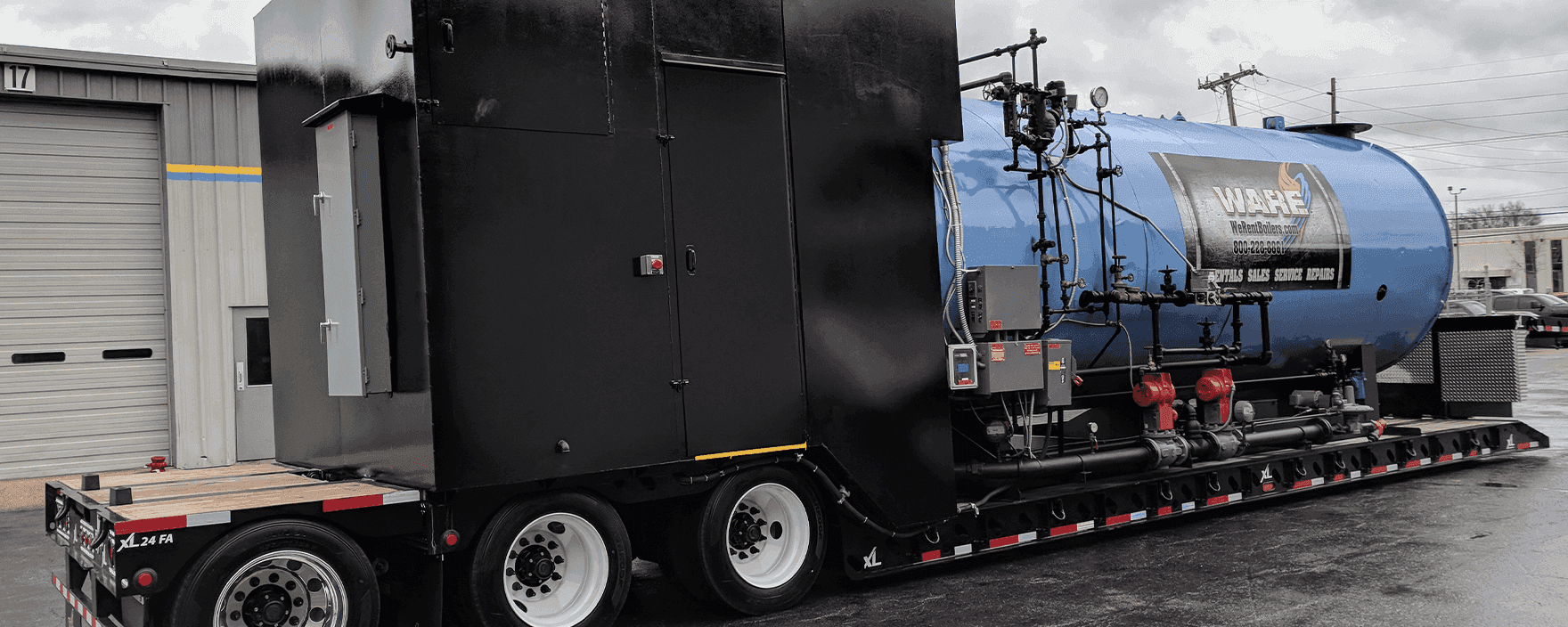 Skid Mounted Boiler Rentals
Skid-Mounted Boiler Rentals
High Power. High Efficiency.
WARE has a variety of skid-mounted rental boilers available for both long-term and short-term boiler rentals. Skid-mounted rental boilers are ideal for projects requiring an economical and optimized temporary boiler solution. A skid-mounted boiler is the perfect way to satisfy your industrial boiler needs anytime, anywhere. They're perfect for supplying high-power, high-efficiency boilers to projects in environments where every square foot matters.


WARE skid-mounted boiler systems are available in the following specifications:
10 Hp Up to 250,000 lbs/hr
Pressures Up to 750 psi
Superheated Up to 750°
Hot Water Rental Boilers
Low NOx Rental Boilers
Additional boiler equipment available for rent:
Rental Deaerators
Rental Water Softeners
Rental Feedwater Systems
Rental Heat Exchangers and Economizers
Rental Steam Pressure Reducing Stations
Rental Gas Pressure Regulating Stations
Rental Economizers
Rental De-Superheaters
We have new skid-mounted boiler units in stock and ready to be delivered. Auxiliary equipment is also available. Contact us today for a fast turnaround on your boiler quote so you can get back to business.
Additional Resources
WARE has been a leader in providing boiler rental services globally. Every boiler rental need is different, and our technicians are equipped to provide the highest quality of service to meet customer needs. Our case studies give more insight into projects with our customers, their needs, and the results.
WARE made history by delivering two 60-ton, skid-mounted boiler rentals to Canada's largest oil refinery. "We're extremely appreciative of Ware's dedication," said Gary Bischof of Irving Oil. "It was a project of great magnitude, and they delivered." Read more today.
WARE was contracted to provide equipment for a plant turnaround at a Chevron plant in Nigeria. Find out about the challenges and accomplishments in providing a Mobile Deaerator system, the interconnecting piping, and more. Learn about the full project.
Browse all case studies to learn more about our projects and customers' rental needs — and the challenges, solutions, and opportunities we encounter along the way.
Upcoming Events

We're very active in the industry, so stop by and see us sometime.

View all events

WARE Newsletter

Sign up for our quarterly newsletter to stay in the know about all things steam.
Ware is your source.
All Ways Steam.
WARE is an industrial & commercial boiler rental and service company that specializes in sales, service, valve repair, rentals, parts, turn key and boiler training.