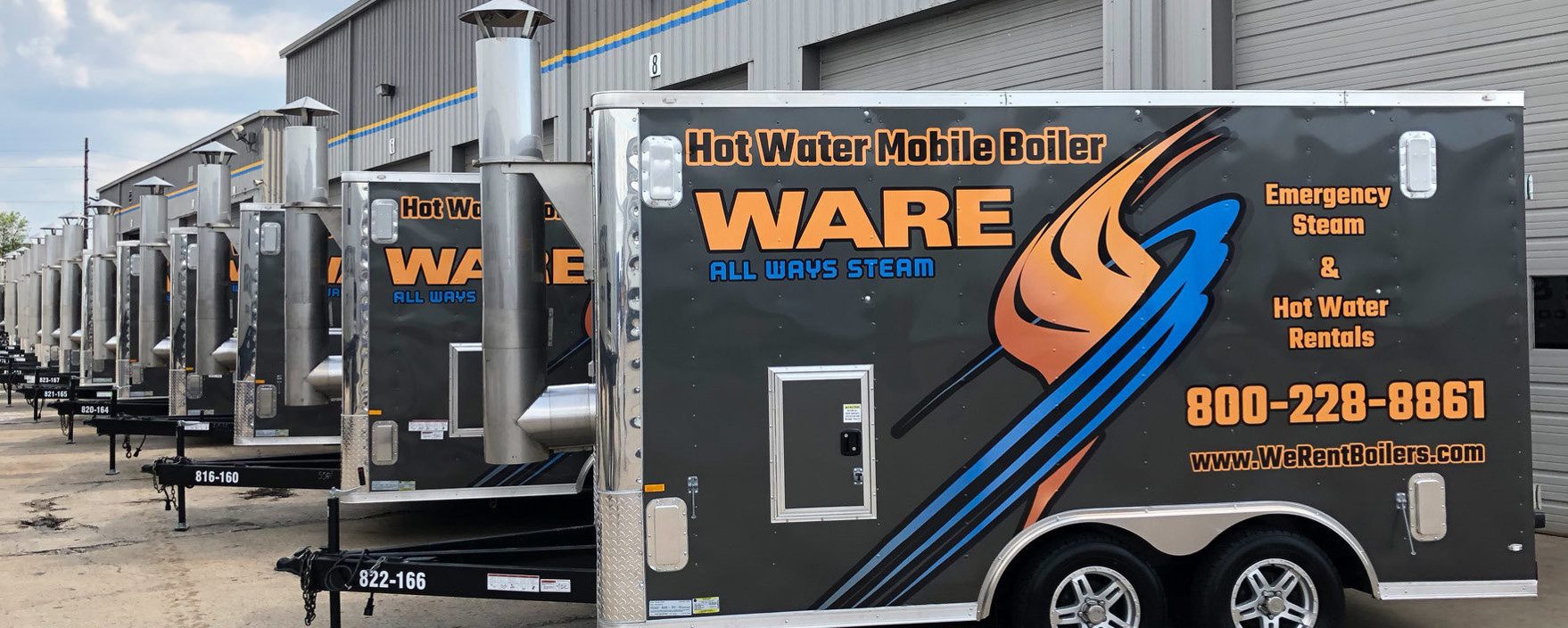 Mobile Hot Water Boiler Rental
Mobile Hot Water Boiler Rentals
Clean, potable hot water, even in remote locations.
Using our expertise in creating steam boilers, WARE has constructed its own fleet of reliable, easily portable, powerful, space-efficient hot water boilers that are ideal for a wide range of process and domestic heating situations.
INDUSTRIES AND APPLICATIONS:
Mobile hot water boilers are best suited to smaller applications that don't require a lot of working steam, but do need a lot of hot water on demand. WARE's rental boiler fleet is standing by for:
Assisted Living Facilities
Hotels
Detention Centers
Hospitals
Construction sites
Temporary housing
Farms and ranches
Emergency shelters
WHAT'S INCLUDED
Mobile hot water boilers are self-contained, and easily transported with a ¾-ton pickup truck. They only require local power and a suitable water and fuel source to get up and running. Every rental hot water boiler includes:
Two 10-foot sections of stainless-steel hose 
One 10-foot long 220v/1ph power cord
All-copper piping and bronze fittings for reliability
Safety and monitoring equipment
Stainless-steel covered heat exchangers
Thermostatic mixing valve to avoid condensing
Onboard expansion tank
RBI Boilers
SPECIFICATIONS:
WARE has a large selection of mobile, high-efficiency hot water boilers available in multiple sizes, depending on your needs.  
2,000,000 btu – 8,000,000 btu Capability
220 Volt / 30-40 Amp / Single Phase
Domestic / Potable or Process / Comfort Heating
SUGGESTED ADDITIONAL EQUIPMENT:
If more capacity is needed, WARE mobile hot water boilers can be mounted in series to deliver even more hot water on demand.
CUSTOMIZATION OPTIONS:
Domestic hot water storage tanks
Manifolds for connecting multiple units together
Gas pressure regulator
Hardware to operate with natural gas or propane (LPG)
Remote monitoring options
Get a WARE Mobile Hot Water Boiler Quote 24/7 
Our experienced professionals are always here to help, and can have a detailed quote for you in about an hour.
HELPFUL RESOURCES
Learn more about mobile hot water boilers from WARE's extensive content library.
Mobile Hot Water Boiler Rental Videos
The Future of Mobile Heating Systems: Dual Water Supply Units – The Boiling Point
Hot Water Boiler Basics - Boiling Point
Putting Hot Water Boilers in Series to Increase Output - Boiling Point
Domestic Hot Water Boiler Installation Recommendations - Boiling Point
Inside A Mobile Hot Water Boiler at the National Horse Show - The Boiling PointWhat is a Hot Water Boiler? - Boiling Point
What is a Portable Hot Water Boiler - Boiling Point
Mobile Hot Water Boiler Rental Blog Articles 
What Boiler Rental Option is Right for My Needs?
The Right Rental For Every Boiler Situation
Let's Talk About Hot Water Boilers


Upcoming Events

We're very active in the industry, so stop by and see us sometime.

View all events

WARE Newsletter

Sign up for our quarterly newsletter to stay in the know about all things steam.
Ware is your source.
All Ways Steam.
WARE is an industrial & commercial boiler rental and service company that specializes in sales, service, valve repair, rentals, parts, turn key and boiler training.